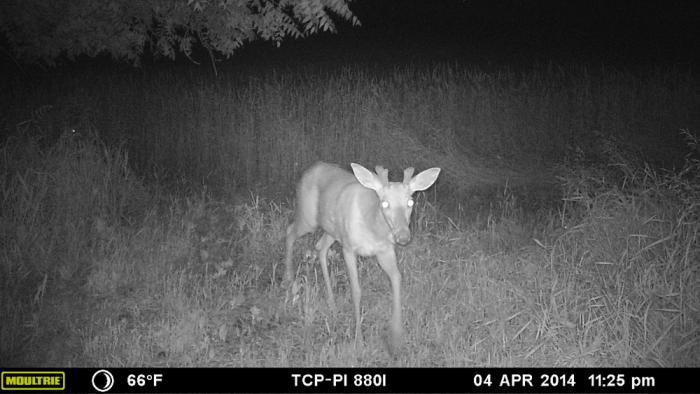 Invisibility
Equipped with Moultrie's advanced 70-foot NO-GLOW infrared flash technology and powerfully hidden by Mossy Oak® Bottomland camouflage, the M-880i is nearly invisible, detecting any and all prey within 50 feet – day or night – and still providing the high-quality imagery that today's game manager needs.
Utility camera
With just the right mix of features and benefits, the M-880i is one of Moultrie's most popular all-around game cameras. Not too simple, not too complicated, the M-880i comes equipped with a simple, easy-to-use menu system on a 2-line LCD screen. And with ample photo, video, and time lapse settings, you can gather all the intel you need on your property to know just what kind of game is out there.
OPERATIONAL MODES
MOTION DETECTION
The M-880i employs a passive infrared (PIR) motion sensor that's triggered by heat and movement within 50 feet.
MOTION DETECT DELAY
Delay is a low-power "sleep" state entered after image capture. Longer delays extend battery life and limit the images recorded in high-traffic situations (e.g. – on a very busy game feeder). The camera can be set for 5, 10, or 30 second delays as well as 1, 5, 10, or 30 minute delays.
MULTI-SHOT MODE
When using the Delay function, multi-shot mode allows the camera to record multiple photos between set delay increments. "Triggered" multi-shot (3 photos) requires a motion trigger for each photo. "Burst" multi-shot takes 3 photos quickly after a single motion trigger.
TIMELAPSE MODE
Time lapse mode disables the PIR sensor and instead triggers the camera through a countdown timer that can be set for up to 2 different time lapse captures per day.
TIMELAPSE INTERVAL
In this setting, you can set an adjustable interval between each image capture. Use longer intervals for slower changing subjects and shorter intervals for faster changing subjects. The M-880i allows for 13 different interval settings, lasting from as little as 10 seconds to as long as 24 hours.
HYBRID MODE
The camera can be triggered by both its passive infrared (PIR) motion sensor and a time lapse program.
TRIGGER SPEED
The M-880i resets rapidly after image capture, taking only 1 second after a motion trigger until the camera is fully ready to detect motion and capture more.
INTERFACE
The camera display is an easy to navigate LCD screen with 2 lines of 16-characters. The other buttons on the front of the display panel are backlit for ease of viewing during low-light conditions.
NIGHT ILLUMINATION
The flash is equipped with 32 Light Emitting Diode (LED) lights. This 940nm NO-GLOW LED technology is essentially invisible and can illuminate game up to 70 feet away in total darkness.
MOTION FREEZE / EXTENDED FLASH
For night-time operation of the camera, you can select between reduced motion blur or extended flash range to maximize image clarity and visibility.
Features a 50-degree horizontal viewing area recorded by the camera.
POWER
BATTERIES & BATTERY LIFE
Camera requires 8 AA Alkaline or Lithium batteries that should last up to the capture of 13,500 images. This is a conservative estimate of photos that can be taken before the camera's batteries are depleted. Actual results vary based on user settings and environmental factors.
ADDITIONAL POWER SOURCES
Compatible with a 12V DC external power source that can be used to extend field life. Camera also supports AC Power Mode that allows for high-performance and perpetual use of the device.
MEMORY
MEMORY CARD COMPATIBILITY
Works with SD/SDHC Class 4 cards or higher, and can handle up to 32 GB. Memory cards are sold separately.
Wi-Fi MEMORY CARD COMPATIBILITY
Camera is compatible with Eye-Fi Connect X2/Pro X2, which allows the camera to transmit images to a Wi-Fi network and the internet. Moultrie recommends (but does not support) the "X2" series of cards from Eye-Fi.
MANAGED MEMORY
When set to "Overwrite Oldest," the M-880i will erase the oldest photos and videos to create free space for new photos and videos when the memory card is at full capacity. Or if you want to keep all of your old images, you can also set the camera to stop recording new images when the SD card memory is full.
OTHER FEATURES
PASSWORD PROTECTION
Optional security feature requires a 5-digit code to operate the camera.